Welcome to ECOSTRESS
CONGRATULATIONS!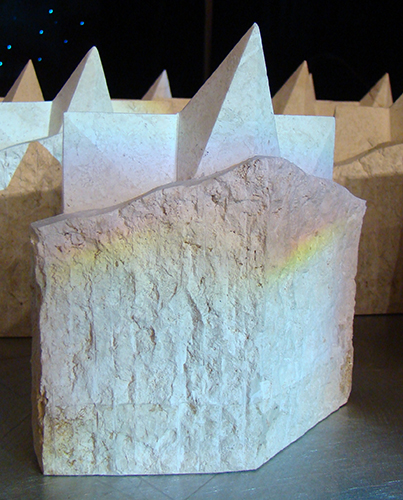 We are so pleased to inform you that the Rotary National Award for Space Achievement (RNASA) Foundation has selected the ECOsystem Space-borne Thermal Radiometer Experiment on Space Station Team as a 2020 RNASA Stellar Award winner for "Outstanding technical excellence in the development and demonstration of the ECOSTRESS instrument for studying plant water dynamics on Earth from the International Space Station".
The RNASA Stellar Awards were established in 1989, and nominations are requested each year from across the U.S. space industry, including government and contractor organizations from coast to coast. Each Stellar Award nomination is reviewed and ranked by the prestigious members of our Stellar Award Ranking Committee, and final selections are made by the RNASA Foundation. Just to be nominated is truly an honor because each organization has its own competitive selection processes to identify and recognize top achievers. To rise to the top of such a distinguished group is a tremendous accomplishment. This year, we had a total of 147 Stellar Award nominees across all categories, including both teams and individuals. In your category, in which there were 33 nominations, only 6 winners were selected.


News Flash: ECOSTRESS has now acquired over 230,000 scenes (after In Orbit Checkout)

ECOSTRESS is addressing  three overarching science questions:
How is the terrestrial biosphere responding to changes in water availability?

How do changes in diurnal vegetation water stress impact the global carbon cycle?

Can agricultural vulnerability be reduced through advanced monitoring of agricultural water consumptive use and improved drought estimation?
The ECOSTRESS mission is answering these questions by accurately measuring the temperature of plants.  Plants regulate their temperature by releasing water through tiny pores on their leaves called stomata.  If they have sufficient water they can maintain their temperature, but if there is insufficient water, their temperatures rise and this temperature rise can be measured with ECOSTRESS.  The images acquired by ECOSTRESS are the most detailed temperature images of the surface ever acquired from space and can be used to measure the temperature of an individual farmers field.
One of the core products that will be produced by ECOSTRESS team is the Evaporative Stress Index (ESI). ESI is a leading drought indicator - it can indicate that plants are stressed and that a drought is likely to occur providing the option for decision makers to take action.
Coachella Valley - Evaporative Stress Index (ESI)
Tasked with detecting plant water use and stress, ECOSTRESS's primary mission is to measure the temperature of plants heating up as they run out of water. As the sun heats the land surface throughout the day, ECOSTRESS measures small temperature variations on the surface of plants. Well-watered plants warm at a slower rate than dry, water stressed vegetation, as depicted here in this image of Palm Springs.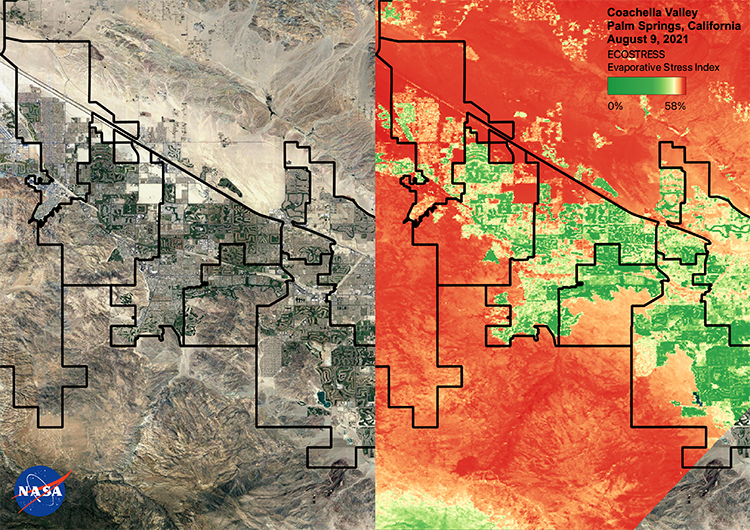 Larger Image Credits:NASA/JPL-Caltech
The ECOSTRESS Evaporative Stress Index (ESI) uses land surface temperature and the Leaf Area Index to describe drought conditions. This map of the ESI in the Coachella Valley region of Southern California shows that the city of Palm Springs consists mainly of well-watered vegetation and golf courses even though the region is currently experiencing a severe drought according to the National Integrated Drought Information System (NIDIS).
The ECOSTRESS mission launched to the International Space Station on  June 29, 2018. NASA's Jet Propulsion Laboratory, a division of Caltech in Pasadena, California, built and manages the mission for the Earth Science Division in the Science Mission Directorate at NASA Headquarters in Washington. ECOSTRESS is an Earth Venture Instrument mission; the program is managed by NASA's Earth System Science Pathfinder program at NASA's Langley Research Center in Hampton, Virginia.