Welcome to ECOSTRESS
News Flash: ECOSTRESS Completed 11,000 orbits
ECOSTRESS is addressing  three overarching science questions:
How is the terrestrial biosphere responding to changes in water availability?

How do changes in diurnal vegetation water stress impact the global carbon cycle?

Can agricultural vulnerability be reduced through advanced monitoring of agricultural water consumptive use and improved drought estimation?
The ECOSTRESS mission is answering these questions by accurately measuring the temperature of plants.  Plants regulate their temperature by releasing water through tiny pores on their leaves called stomata.  If they have sufficient water they can maintain their temperature, but if there is insufficient water, their temperatures rise and this temperature rise can be measured with ECOSTRESS.  The images acquired by ECOSTRESS are the most detailed temperature images of the surface ever acquired from space and can be used to measure the temperature of an individual farmers field.
One of the core products that will be produced by ECOSTRESS team is the Evaporative Stress Index (ESI). ESI is a leading drought indicator - it can indicate that plants are stressed and that a drought is likely to occur providing the option for decision makers to take action. 
NASA's ECOSTRESS Monitors California's Apple Fire From Space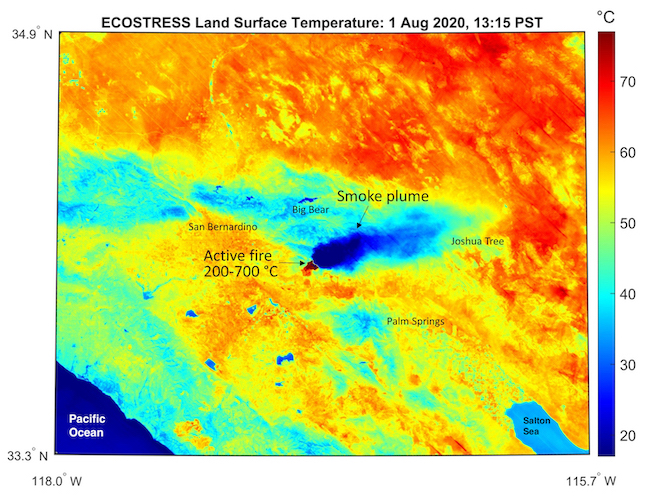 As the wildfire rages Southern California, an Earth-observing instrument aboard the International Space Station was able to measure its heat and dark smoke plume. 
NASA's Ecosystem Spaceborne Thermal Radiometer Experiment on Space Station (ECOSTRESS) captured a birds-eye view of the vast Apple fire raging in Southern California. 
The wildfire began on the evening of Friday, July 31, after two smaller fires merged and rapidly grew in the hot conditions in Riverside County, east of Los Angeles, prompting the evacuation of thousands of residents. Air temperatures have soared past 100 degrees Fahrenheit (38 degrees Celsius), stressing the vegetation and turning the area into a tinderbox. By Monday, the wildfire had exploded to over 26,000 acres.