ECOSTRESS Shaping How We Address Urban Heat Islands
Written By: Allison Bailey, ECOSTRESS Applied Sciences
ECOSTRESS's precision capabilities redefine how municipalities and NGOs can address urban heat island effect in our most heat-vulnerable neighborhoods. 
Urban heat island (UHI) effects occur within urban settings due to the thermal energy dynamics of materials found within a built environment such as concrete. These heat island effects can lower air quality, increase energy and water demand, and increase heat-related casualties.  With a projected 68% of the global population residing in urban areas by 2050 and a global temperature increase of 32°F per decade due to climate change, there is an immediate need to address UHI effects. 
In 2017, Dr. Glynn Hulley, a scientist with Carbon Cycle and Ecosystems group at JPL, approached Climate Resolve, an LA-based NGO that advocates implementing heat mitigating measures, to support their efforts to cool Los Angeles. Hulley introduced the Climate Resolve team to ECOSTRESS, knowing the satellite imagery could provide precise resolution capable of geolocating the most heat-vulnerable areas of the city down to the street level.  In partnership with Los Angeles city-county, Climate Resolve now uses ECOSTRESS data to target heat-vulnerable areas and implement cooling strategies such as the "cool neighborhood" pilot program.
The "cool neighborhood" pilot program applies thermal-resistant paint to streets in neighborhoods susceptible to extreme heat. ECOSTRESS data was pivotal in geolocating and quantifying the effects of the cool pavement throughout various points of the day. "The surprising part to me was the efficacy of the cool paint itself.  We found a 10-12℉ difference between the areas we painted and the areas we did not paint on the street level.  On the neighborhood level, that averaged out to about a 2℉ cooling." stated Hulley.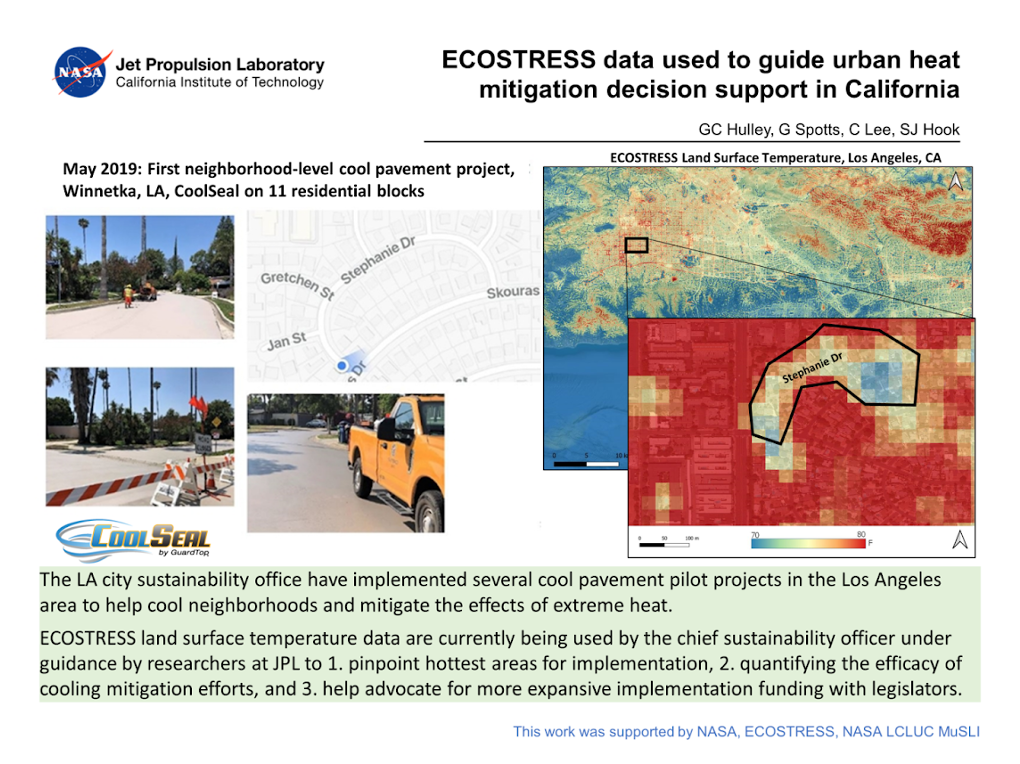 Last month, Climate Resolve and the LA Bureau of Street Services presented ECOSTRESS data findings and the results of the "cool neighborhood" pilot to members of the California State Legislature.  The pilot program's success led to a $350 million budget allocation for heat mitigation efforts for California. 
Click on the link here to learn more about ECOSTRESS and the "cool neighborhood" case study.