NASA's ECOSTRESS Sees Fire-Induced Tornado From Space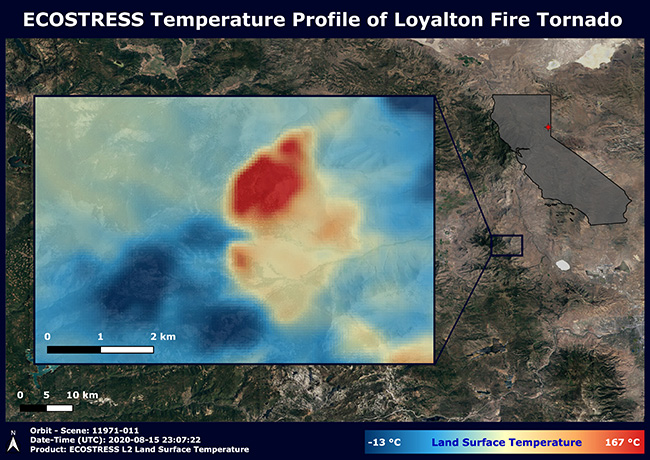 NASA's ECOsystem Spaceborne Thermal Radiometer Experiment on Space Station (ECOSTRESS) has imaged a temperature profile of an area surrounding a fire-induced tornado in Loyalton, California. A 20,000-acre wildfire early on Saturday, Aug. 15, 2020, had been the source of the tornado.

Fire tornados are rare occurrences and happen due to the most unfavorable weather conditions: harsh winds and a surge in heat from a fire. They have the potential to be highly dangerous, leading to many areas to issue a weather alert to their residents to stay cautious and find places of shelter.

In this map, there is a concentrated area of high temperature, which is likely where the fire-induced tornado had taken place. Also present in the image are very cold clouds, possibly representing the pyrocumulonimbus cloud that usually forms above a fire tornado. The National Weather Service (NWS) also suggested outflow winds in excess of 60 mph, which points to the event to be an EF1 or EF2 tornado.

NASA's Jet Propulsion Laboratory in Southern California built and manages the ECOSTRESS mission for the Earth Science Division in the Science Mission Directorate at NASA Headquarters in Washington. ECOSTRESS is an Earth Venture Instrument mission; the program is managed by NASA's Earth System Science Pathfinder program at NASA's Langley Research Center in Hampton, Virginia. Future studies could use ECOSTRESS data products in a similar fashion as land surface temperature was used to assess the tornado pictured above.