14. ECOSTRESS Captures European Heat Wave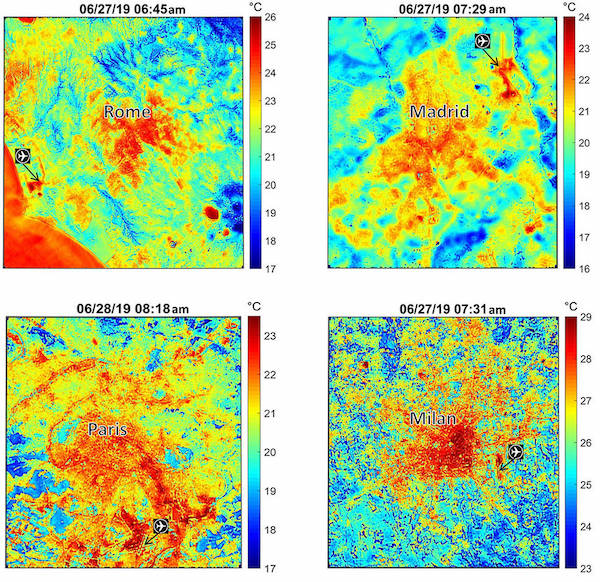 These maps of four European cities show ECOSTRESS surface temperature images acquired in the early mornings of June 27 and 28, 2019, during a heatwave. The images have been sharpened to delineate key features such as airports. Airports and city centers are hotter than surrounding regions because they have more surfaces that retain heat (asphalt, concrete, etc.).
Credits: NASA/JPL-Caltech
Europe's massive heat wave is on its way out — and it's leaving a slew of broken temperature records in its wake. Many countries were gripped by temperatures above 104 Fahrenheit (40 degrees Celsius) between June 26 and June 30. According to the World Meteorological Organization, June 2019 is now the hottest month on record for the continent as a whole.
NASA's Ecosystem Spaceborne Thermal Radiometer Experiment on Space Station (ECOSTRESS) measures Earth's surface temperature from the International Space Station at different times of day. Although its primary objective is to monitor the health of plants, ECOSTRESS can also detect heat events such as the one much of Europe just experienced.  Read More